BabyRice Chromatic Alginate Fast Set Impression Moulding Powder Skin Safe 500g+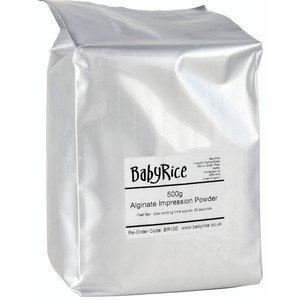 ---
BABYRICE CHROMATIC ALGINATE MOULDING POWDER 500g PER BAG/PACK (colour changing white-pink-white, fast setting) BabyRice / Anika-Baby part code: BR100
BabyRice Alginate Produced for BabyRice UK, this alginate is a high grade colour change (chromatic) impression moulding powder. It is specially formulated to capture the finest of lines and tiniest details of the skin, making it perfect to use for casting hands, feet, face, body parts, paws and so on. You can even replicate a favourite object, such as an ornament or decorative plasterwork - perfect for preservation, restoration and replication!
Skin Safe Our alginate is totally safe for use on your newborn baby's skin as the alginate's main ingredient is seaweed! (Dentists use this exact same alginate in their patient's mouths, it conforms to British safety standards BS 4269 Pt.2:1991 & ISO 1563:1990).
Guide on Quantities If used correctly (i.e. minimal waste and success on each mould making session): 500g - will create up to 6 impression moulds of a newborn baby's hand and/or foot 500g - will create 2-3 impression moulds of a 2-3 year old's hand and/or foot 500g - will create approx. 6 paw prints - depending on the size of your dog and paws! 500g - 1-2 face casts 1-1.5kg - a good quantity for an adult's hand and/or an adult's hand holding a baby's hand or a paw 1.5-2kg - for making an adult's holding hands cast 3-4kg - for family casting of 3-4 hands
We specialize in producing do-it-yourself casting kits which come complete with plaster and paints to completely start and finish your project. Do check out our shop if you would prefer to purchase a complete kit.
Do note that this listing is for the alginate only, so you will also need plaster if you don't have any already! The impression mould will deteriorate quickly, so please don't make any moulds if you haven't got any plaster! (We sell the plaster separately in our shop)
Instructions - are sent with each order (in English, German, French & Italian languages) Whichever quantity you choose to purchase, each order will have one set of instructions for the water to powder ratio mix and how to work it.
Mixing Time: 1.30-2 mins from start of mixing Setting Time: At 2 mins, the alginate will start to set - setting time approx. 30 seconds at 30ºC (warmer water makes setting quicker, colder water makes setting slower). 30 seconds is perfect for casting baby's and pets, it's not too long for them to keep still! The skin should be lubricated with petroleum jelly to protect hair growth. This is especially important for casting areas where there is a lot of hair, example adults and pet paws. Petroleum jelly will stop the hair from sticking to the alginate mould whilst setting.
NOTE: Plaster should be poured into your impression mould within 15 to 20 minutes of creation. If immediate plaster casting is not possible, the alginate mould should be sealed in a polythene bag or air-tight container along with a damp cloth to keep it moist.
Best Before Date Our alginate is freshly produced for us and will have a minimum shelf life of 20 months.
Advantage of using BabyRice Alginate to create Impression Moulds Natural plant extract Mixes with water Excellent reproduction of fine detail Quick setting Self releasing Peppermint flavoured Simple to use Excellent elastic properties and stability Extremely fine powder for smooth easy mix Especially formulated to be dustfree in normal use
Who are BabyRice?
Established in 2007, BabyRice is a UK company, based in Worcestershire. We specialise in manufacturing and creating life casting kits, display plinths with personalised engraved plaques and we manufacture box display frames and picture frames. When you purchase from us, you are supporting British manufacturing and jobs! Should you require any assistance or have any questions, we are here to gladly help you.
After making your alginate purchase, please have a look in our shop to see our other fabulous items!