[EC-360™ BLUE] ThermalPads 5W/mK,0.5MM1MM1.5MM2MM3MM4MM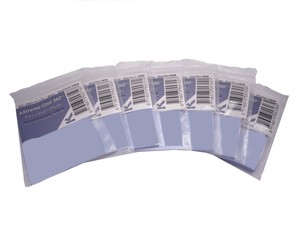 ---
EC-360™ BLUE Thermal Pads 5W/mKDifferent sizes, different variationsEC-360™- Excellence in eXtreme Cooling.eXtreme-Cool 360™ Thermal-Pads are high quality Thermoplastic Components with an excellent price-performance ratio. With an extremely high Thermal Conductivity of 5 W/mK the EC-360 BLUE series are the perfect solution for an efficient Heat-Transfer in adverse surface conditions in which the use of Thermal Pastes is not applicable. Thanks to its high Elasticity and Compression-abilities it perfectly adapts to any tiny surface irregularities. EC-360™ Thermal Pads are available in densities of 0.5 - 5MM. Areas of Application are majorly the Cooling of RAM, GPU, CPU, North/Southbridge Chips, as well as electrical components like(MOSFETs, regulators, etc.) manufactured from refined thermoplastic Silicon-Polymer-Compounds. The Thermal Pads also are not electrically conductive and therefore double as an insulator.Attention, Read this before buying!, Thermal Pads generally are NOT  ADHESIVE/STICKY! If you need to glue them onto something or use them to attach something, additionally order some of our EC-360™Thermal Adhesive.Please note that the 20x20mm Pads come without any labels.Notice: You need bigger quantities? Please send us a price offer, we will give you a discount then!Specifications:Shipping:
E.UOther CountriesWorldwide & Outside E.U
1.50€   
Not Available
1.00€  
4.50€ 
4.50€  
3.00€  
Due to problems, shipping to these countries a tracking number is enforced, thus why it costs more.For the Tracking number, check your emails!
Shipping to these countries is a bit cheaper because no taxes are charged.
Invoices & Support:Invoices include VAT and are sent automatically to you by Email as a PDF document after payment, please check your spam folder if you didn't receive it.