Santa Claus Christmas Russian Stacking Wooden Nesting Dolls Matryoshka set 5 Pcs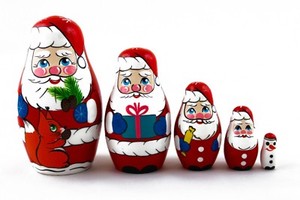 ---
Russian nesting dolls is a great home decor gift and educational nesting toy.

Set 5 pcs. Height 3.5" (9 cm)

Matryoshka dolls are also known as Russian nesting dolls. If you want to make a really unique and original gift, if you want to amaze and delight someone you care about - Russian Nesting Dolls is an excellent choice!

Matryoshka will bring joy to children and adults, as its fun to assemble and disassemble.

Matryoshka will be an excellent decoration of your interior:

Perfect for home decor; Adds soft decor accent to any interior; Durable and eye-catching.

Matryoshka is the most famous Russian souvenir, it is considered to be a phenomenon in the world culture, a puzzle wrapped in a mystery inside an enigma, soul of Russia. The art of the Russian matryoshka is the most comprehensive account of the history, production, varieties, and creators of these charming nesting dolls.

In their short-100 year history, these nesting dolls have become more than a popular souvenir or a folk craft; they are a medium for the talented Russian artists - and a symbol of Russian folk culture.

This set is 100% handmade and hand painted:

Natural wood - alder or aspen; Decorated acrylic paint; Finished with varnish; Absolutely safe environmentally friendly materials; The largest doll is 9 cm (3.5") tall, the smallest is 2.3 cm (0.9").

Patterns, colors and shapes may vary slightly due to the fact that all authentic nesting dolls are handmade.

If you have any questions, please ask me.

You are covered by our 100% Money Back Guarantee!

So, why are you still thinking about it? Just press button "BUY" to get your Exceptional nesting dolls!

Shipping time:

USA, Europe, Canada - 5-15 working days; Europe (Germany, Italy) - 7-20 working days; Australia - 14-56 working days; Other countries - 10-25 working days.

We ship your orders within 1-3 business days after the payment cleared. Combined shipping available.